Introduction
In Hunts Point, WA, a locale synonymous with luxury yachting on Lake Washington, sophisticated outdoor dock lighting is a quintessential aspect of the opulent waterfront lifestyle. Northwest Outdoor Lighting is proud to present state-of-the-art lighting solutions that blend safety, aesthetics, and the latest in smart technology.

Why Quality Dock Lighting Matters
For the affluent residents of Hunts Point, dock lighting is more than a mere functional necessity; it's a statement of elegance and innovation. It ensures safe nocturnal navigation and complements the luxurious aesthetics of both the dock and yacht, mirroring the upscale lifestyle.
1. LED Pathway Lights with Smart Controls
Opt for LED pathway lights that not only provide a warm, welcoming glow but also come with smart control options. These lights can be controlled and customized via your smartphone, allowing for convenient adjustments in lighting intensity and scheduling, all from the palm of your hand.



2. Underwater Dock Lights
Underwater dock lights are not just about safety; they create a magical ambiance around your yacht. These lights not only illuminate the water beautifully but also attract marine life, making your dock a focal point of natural beauty and high-end technology.

3. Customizable Accent Lighting with Smartphone Integration
With customizable accent lighting featuring smartphone integration, personalizing the ambiance of your dock is effortless. Choose from a spectrum of colors and control the lighting directly from your smartphone, perfect for setting the mood for any occasion.
4. High-End Security Lighting
Sophisticated high-end security lighting ensures that your dock remains a safe and secure extension of your home. Integrated with smart technology, these lights can be monitored and controlled remotely, offering an additional layer of security and convenience.
Conclusion
At Northwest Outdoor Lighting, we believe in merging luxury with the latest technology. Our outdoor dock lighting solutions for Hunts Point's luxury yachts are designed to not only illuminate but also to innovate, bringing you the convenience of smart technology coupled with unrivaled elegance.

Transform your dock into a testament to luxury and smart technology with custom lighting solutions from Northwest Outdoor Lighting. Reach out to us today and take the first step in redefining your waterfront experience.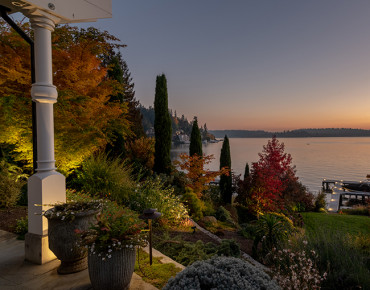 Warm lighting dapples the colorful landscape of this waterfront property. Whether by land or water, it is a bright beacon for all who pass.
View Project

Homeowner, Linda, has commented numerous times how lovely it is to come home at night to a well-lit yard. From the moment you enter the gate, you are greeted with warm ambient light in the plantings and garden path.
View Project

Gorgeous waterfront property with a vista that leaves you speechless. We added LED pathway lighting and uplighting to pop the grasses and plantings. The stonework and grade made for interesting contrasts. All in all, the art and ambiance will make for beautiful evenings with friends and family.
View Project
---