Lighting that enhances the beauty, security and value of landscapes.
Bring magic and life to a garden pathway or front walkway. Pathlights provide enough beam spread to adequately make areas safe for walking without a glare in your eyes. From traditional light designs to modern and sleek, we offer various pathlight options depending on your desires and what the property is calling for.
Overdesigned heat sink and thermal management for longevity and consistency.
Dedicated LED fixtures.
Proprietary design-enhance and robust driver technology
Remarkably tight binning process. 2-step MacAdam ellipse to ensure consistent light output and no variant light.
Built in surge protector.
Field serviceable.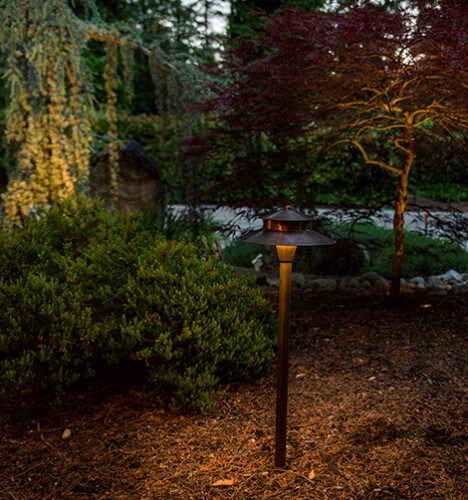 Architectural Bronze – Miami, P1-90, P11 only
Solid Brass – Mushroom, Tiki, Villa only
Stainless Aluminum – P1-90, P11 only
Black – Miami, P1-90, P11 only
2200K very warm white
2700K warm white
3000K white
115LM – PO only
160LM – Miami, Mushroom, Tiki, Villa, P3 only
230LM – P1-90, P12 only
340LM – P11 only
540LM – P11 only
1700LM – P11 only
2000LM – P3 only
Amber
Blue
Royal Blue
Green
Red
1W – PO only
2W – Miami, Mushroom, Tiki, Villa, P1-90, P3 only
3W – P11 only
9W – P11 only
12W – P11 only
15W – P11 only

Made in the USA and backed
with a 5-year warranty