Trends are sometimes a hard thing to jump on the bandwagon with. However, we believe these are sustainable options based on current trends in landscape lighting. These are a few ideas that may gain popularity in the Seattle region for 2023.
Smart Lighting: With the increasing popularity of smart home technology, it's likely that smart landscape lighting will become more common in 2023. Smart lighting systems allow you to control your outdoor lighting from your smartphone or other devices, making it easier to manage your lighting and create custom lighting scenes. This requires a special transformer but provides the homeowner with so many options. We have clients who appreciate turning their dock lighting off when their not boating but want the rest of the outdoor lights on. Another client wanted to specifically highlight the firepit lighting for when guests were going to be enjoying a warm fire outdoors. Maybe you're coming home from Sea-Tac in the middle of the night and want to be greeted to your welcoming environment, you can turn your lights on while taking your Uber home.

Colorful Lighting: In recent years, landscape lighting has moved beyond traditional white light to include colored lights. In 2023, we may see more homeowners experimenting with colorful lighting to create unique and eye-catching effects in their outdoor spaces. Many homeowners like to show off their sport team pride or like including special holiday colors into their landscape lighting. This can be achieved by the above mentioned transformer and by buying special filters for your low voltage landscape lights. Plus, Northwest Outdoor Lighting can be hired to handle all the nitty gritty work of created your special color story and you don't need to get on your hands and knees.

Sustainable Lighting: As homeowners become more environmentally conscious, sustainable lighting options such as solar-powered lights, low-voltage LED lights, and energy-efficient bulbs will continue to gain popularity. We obviously have thoughts about installing solar lighting in the Pacific Northwest. It just doesn't receive the sun needed to provide homeowners with a glow large enough to make an impactful spread on walkways, stairs or even highlight your plantings. At Northwest Outdoor Lighting, we install low-voltage LED lights to give homeowners the most bang for their buck. However, we're also mindful of our impact towards the environment. When homeowners have an old system that is getting replaced, we take all those old lights and recycle as much as we can, all the way down to the stripping wiring.

Minimalist Lighting: Minimalist lighting designs are becoming increasingly popular in both interior and exterior design. In landscape lighting, this means using a few well-placed fixtures to create a simple, understated look that highlights the beauty of the landscape. It should also be mentioned that rattan woven pieces are making a huge comeback. With this minimalist approach, we're seeing a rise in woven statement pieces as outdoor lighting dining solutions.

Statement Lighting: On the opposite end of the spectrum from minimalist lighting, statement lighting involves using bold, eye-catching fixtures to create a dramatic effect. In 2023, we may see more homeowners using statement lighting to create a focal point in their outdoor spaces. For instance, the front entrance of this home below as 9 mini spotlights in the fountain alone, not to mention the 40 uplights that surround the palms and maples.
Overall, landscape lighting trends are always evolving and changing, but these are a few ideas that may gain popularity in 2023. Hiring a landscape lighting designer to assist in creating an outdoor experience can be such a helpful way to recognize and understand the nuances of your property or even understand all the possibilities you can achieve. Reach out and we'll be able to share all that is possible.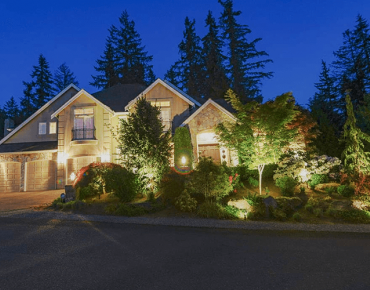 A secluded residence in the Tuscany neighborhood of Woodinville, this home had already been serviced with outdoor lights which needed repair.
View Project
---