Looking to improve or add to the aesthetics of your home? Trying to figure out how to make your property really pop?
One of the best ways to do so is by illuminating your landscaping! It creates warmth for visitors when they arrive. It aids security by incorporating light all around the property. You can even have fun and add touches of whimsy by illuminating artwork, signage, and water features.
As just one example, I was at an estate sale a few years ago and found a fun red lattice umbrella stand and decided to install it in my garden – upside down! I placed our Mini Cube fixture inside and placed a potted geranium on top. The light glows out through the lattice work and adds a bit of red pop amongst the greenery.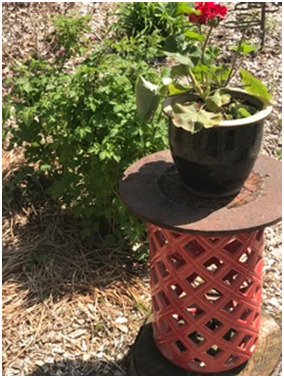 Another example: while clearing some side brush on our property, we found a 2 x 5-foot long rusted steel sheet which had holes punched out of it. Obviously, someone lived here years ago who was a welder. Well, no sense throwing it in the landfill! We leaned it along the fence and placed a small uplight on it.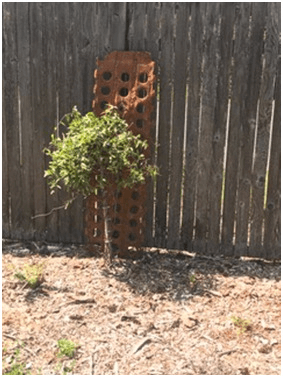 It doesn't take a lot to make your property shine, just the right lights illuminating the right personal touches – and of course, the willingness to let your personality come through!
Custom Sculptures
When you're thinking of outdoor lighting, don't just think of your landscape! Whatever artwork brings you joy is something you may want to enjoy in the evening hours, too. Having a custom-made piece of art in the garden allows you to really stand apart from your neighbors! We've had the pleasure of working with Seattle Solstice on some of our projects – extremely creative minds creating beautiful art pieces.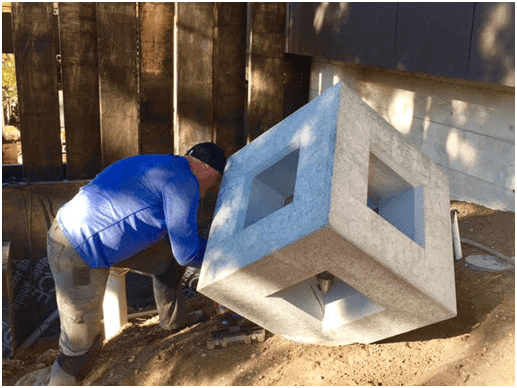 Craig is placing a dimmable, hidden lighting system inside this sculpture, made by Seattle Solstice, to create a night time glow effect.
I'm sure you've seen their work in a few of our lovely community parks and office buildings around the city. Check out their website.
Signage
In addition to illuminating your home and creating personal art projects that reflect your personality, consider lighting your street address. In addition to being an easy and obvious way to personalize your property, it can also be helpful for visitors. A reminder though: avoid raised lettering. Although it looks cool during the daylight hours, placing any light under or over the sign will create shadows that make it hard to read. Engraved numbers or flushed lettering works best.
An example from my own home: I have an address sign that is made from laser cut steel. A frosted lens is inset over the cutout numbers. Of course, I placed a small fixture inside, and now my house number softly glows for all to see.
If you find yourself drawn to art, don't let the four walls of your home contain you! Let your personality reflect your passions in the garden too. We love fun projects that evoke authenticity!
---