With Earth Day upon us this weekend, Craig and I thought we would share our favorite plants that should be in your gardens.
They also happen to be our top 5 to illuminate at night. We're always looking for creative ways to add color and texture to landscape lighting and we believe these options will do just that! Some of the best gardens we've lit have been carefully planned for all hours of the day, even nighttime. When these plants are highlighted at night, they completely change the mood and visual impact of your property and give your gardens an attitude you didn't know it had.

1. Japanese Maple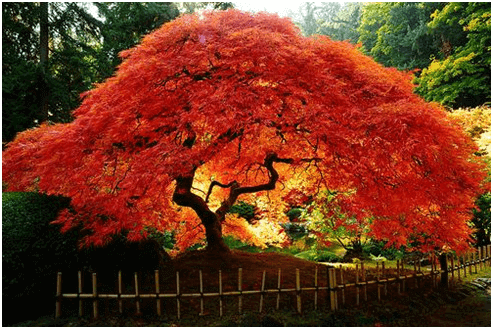 A very common tree that looks amazing with LED outdoor lighting is the Japanese red maple. The way the branches hang down towards the ground, as well as the phenomenal color and the shape of the branches, make this tree shine with illumination. Because of the width of these trees, it is sometimes necessary to use two fixtures to capture the spread of the canopy. Even in the winter when the leaves have dropped, this plant is a show stopper! You can view photos from a project we completed with Japanese Maples here. (Photo provided by cobbtrees.net)

2. Magnolia Tree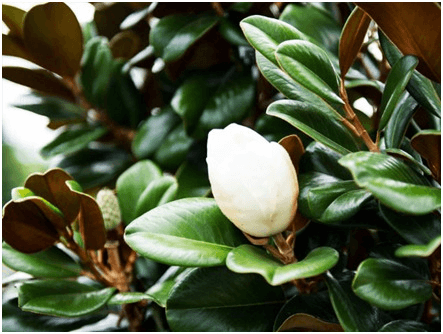 Probably best known now as the tree that Chip and Joanna Gaines from "Fixer Upper" plant at every house they renovate, the Magnolia is a stately tree with dark green waxy leaves with brown on the underside and a gorgeous white blossom. It's quite fun to illuminate these trees. Your eye notices the green top of the leaf, but the light is illuminating the brown underside. There's lots of intrigue with this tree. It just so happens to also have a multitude of health benefits. (Photo provided by tree-land.com)
3. Harry Lauder's Walking Stick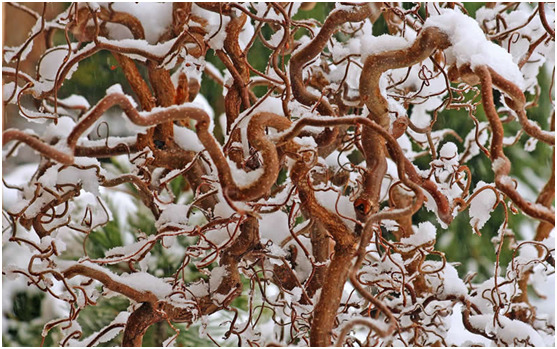 After seeing this in a customer's garden, we had to have it in our own! The Walking Stick has its own personality. The quirky, twisting branches and yellow, dangling catkins give a variety of appearances throughout the year. However, Harry really steals the show in winter when its fascinating bare branches are illuminated for us all. (Photo provided by wilsonbrosgardens.com)
4. Arctic Fire Red Twig Dogwood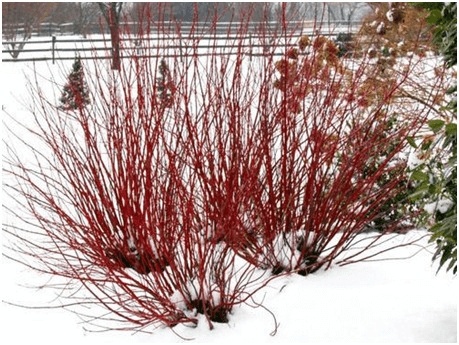 A beautiful, smaller garden plant that adds interest during summer and winter months is the Arctic Fire Red Twig Dogwood. A well-schemed garden will have green colors in the background to contrast with this dogwood. Lighting only enhances the red coloring and creates a bit of pop in the gardens. (Photo provided by amazon.com)
5. Birch Trees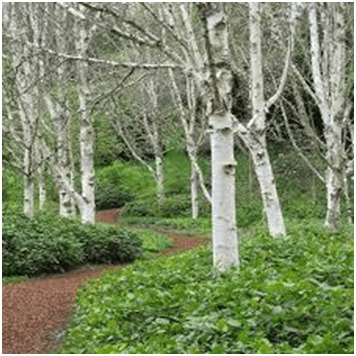 Birch trees are lovely with their light-colored trunks and delicate leaves. Selecting the proper lighting optics insures that the beam of light is directed straight up the tree trunk creating a dramatic effect. You mostly see them in a group. We either illuminate all of them or share one fixture for a few of them. We love that their bare winter trunk captures attention! (Photo provided by underthesunseeds.com)

We hope you've found this insightful and learned something new today. It's important to recognize not just the benefits but also the beauty of this incredible Earth we live on. Now go plant a tree!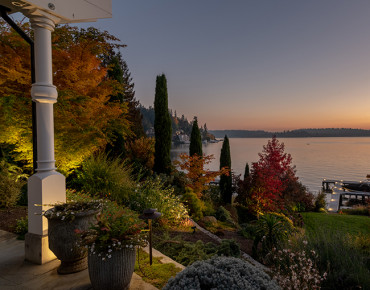 Warm lighting dapples the colorful landscape of this waterfront property. Whether by land or water, it is a bright beacon for all who pass.
View Project
---