As a homeowner, you're always looking for ways to enhance the beauty and functionality of your property. One excellent way to achieve this is by investing in landscape lighting. Here are five reasons why every homeowner should have landscape lighting.
Increases Curb Appeal Landscape lighting can transform your home's exterior and make it stand out in your neighborhood. By strategically placing lighting fixtures around your property, you can accentuate your home's architectural features and highlight your landscaping. This can significantly increase your home's curb appeal and make it more attractive to potential buyers if you ever decide to sell.
Enhances Safety and Security A well-lit outdoor space can also enhance safety and security around your home. Landscape lighting can illuminate walkways, steps, and driveways, making it easier to navigate at night and reducing the risk of accidents. Additionally, a well-lit property is less attractive to burglars and can deter potential intruders from targeting your home.
Extends Your Outdoor Living Space Landscape lighting can help you get more use out of your outdoor living spaces, even after the sun goes down. By installing lighting around your patio, deck, or pool, you can create a warm and inviting ambiance that makes it more comfortable to spend time outside at night. This can be especially valuable during the summer months when the weather is warm and inviting.
Energy-Efficient Options are Available Many people assume that landscape lighting is expensive and uses a lot of energy. However, with advances in technology, energy-efficient lighting options are now available. LED lights, for example, use less energy and last longer than traditional lighting options. This means you can enjoy the benefits of landscape lighting without breaking the bank.
Easy to Install and Maintain Finally, landscape lighting is relatively easy to install and maintain. A professional installer can have your lighting system up and running in no time, and once installed, maintenance is minimal. With regular cleaning and bulb replacements as needed, your landscape lighting system can last for many years.
In conclusion, landscape lighting is a valuable addition to any home. From improving curb appeal to enhancing safety and security, there are numerous benefits to installing lighting around your property. Plus, with energy-efficient options available, landscape lighting is more accessible than ever before. So, if you're looking to enhance your home's exterior and create a warm and inviting ambiance, consider investing in landscape lighting today.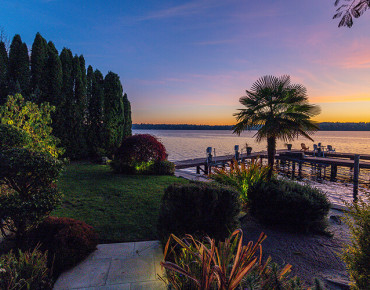 Northwest Outdoor Lighting was recently hired to update the lamped fixtures of this Lake Washington multi-million-dollar mansion and bring them into the 21st century. We created a new design that enhanced the structure, landscaping and art that surrounds this mansion.
View Project
---