One of our favorite things to hear from a new client is:
"I'm in the planning stages of building my property and wanted your opinion."
We love getting invited into the process early, and dreaming with our clients to help them create and achieve their ultimate lighting goals.
It's incredibly helpful for us to advise and give input on the many things that must be done prior to finishing up a building project and starting the exterior illumination phase. We pride ourselves on our ability to work with landscape designers and architects to create the best lighting design for our clients. We are pretty adept at installing lighting just about anywhere, but it's most convenient when we can find the best solutions ahead of time for typical lighting challenges.

If you're in the middle of building your home or just starting, we wanted to share a few suggestions that can help you now so that you're ready to talk about lighting when the time comes.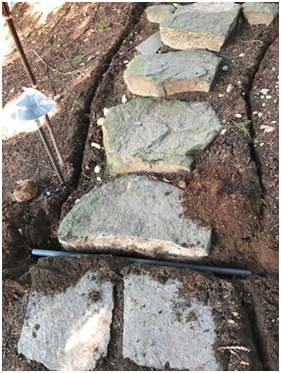 1. Place conduits under permanent surfaces so that wire may be threaded through.
Before you pour or lay that driveway/walkway, have your contractor lay one or more 2" conduit pipes in place from one garden area to the next. This allows us to thread the low voltage cable into garden beds that may possibly need lighting.
Tape up the ends so that dirt doesn't compact into the pipe and prevent threading. Mark where the ends of pipe are, so it's easier to find during your lighting installation.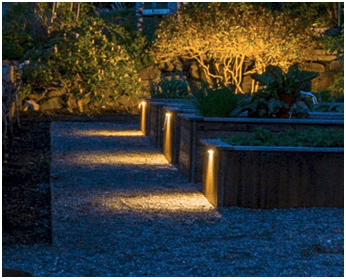 2. Design light in areas where there aren't any gardens.
You'd be surprised where and how we can illuminate an area, even without garden beds in place. By planning ahead of time, you can install lighting in planter pots to illuminate a paved area. Using plants in pots softens the hardscape and adds functional lighting. Of course, it's best for us to thread the wire up from the bottom of the pot before it is filled, along with the irrigation line, so as to eliminate wires from hanging over the edge. We've also used ceramic pots like this project to light a walkway.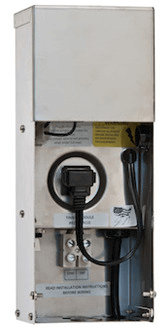 3. Install outlets in a discreet area for the transformer.
There is no need to see the transformer, and you definitely don't want it mounted at your front door. Many new homes have few outdoor outlets to choose from.
We recommend hiring an electrician to create an outlet on the outside of your home in a discreet area.
These are just a few of the tips we share with clients when doing a pre-construction consultation. Calling us early on in the process can save you money and time. Trust us when we say that it will make your life easier and your lighting installation go smoother.
---