Looks like we'll need to add more wall space to our office, because we're the recipients of the "Award of Distinction " for the THIRD year in a row!
Washington Association of Landscape Professionals has been leading the way in honoring the hardworking professionals in the landscape industry, and we're proud to be recognized alongside our peers.

To say that we're elated about this award is an understatement. Our customers are always raving about their experience but having peers in the industry notice the work and attention to detail -- well, it's very much appreciated, especially since, as a husband and wife duo, we're the only full time employees at Northwest! We're grateful for our part time employees who lend a hand with our larger projects, as well as our photographer and social media manager, but it's still a pretty tight ship. But we get the job done!
We thought we'd share several photos as well as a little behind the scenes details about the project that won us this award. So curl up with a cup of hot tea and let us share a little of our journey.
The Project
Nestled high in the rolling hills of Woodinville, between the grape vines and towering pines, sits a gabled house. Surrounded by lush, green grass and expansive gardens, the natural day light provides a unique view of the home to all who pass by. As beautiful as the home is during the day, its owners called Northwest Outdoor Lighting when they wanted their home and spectacular foliage to pop at night as well.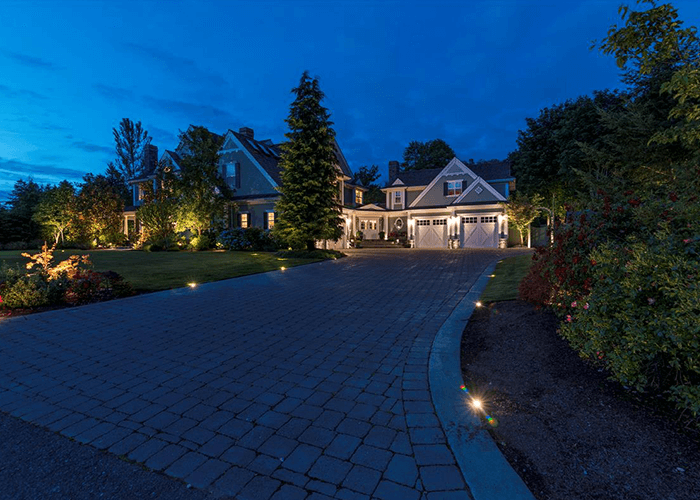 We zipped over that week to show them how outdoor lighting could enhance the beauty that surrounded them, while also providing a safe and secure property during their sleeping hours. Having brought a light kit with us, which helps potential clients understand what their yard would look like when lit, we were able to demonstrate how a few key pools of light could bring their whole property to magical life!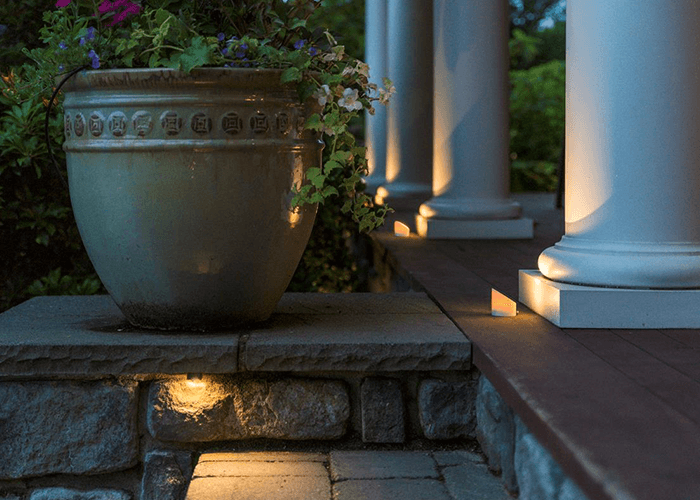 When designing a property, Mary really uses her imagination. She truly takes a 360 view of the entire property, from the home design to the landscape, and as she conceptualizes, pops of light begin to emerge, speckled across the gardens and throughout the dark corners of the yard. She plays with a balance of light and darkness, trying to focus on a core design philosophy that says that what is unseen is as important as what is seen, and crafts a design that truly shines.
The Design
Once a design is dreamed up for that particular property, we load our tools and lights into the truck. For this particular property, a total of 187 lights were carefully placed on this landscape over the course of 4 days. It was an all hands on deck situation, which included two other teammates. Craig created special guards for several uplights so that the eye would not have any undue glare. Mary had to climb into crawl spaces to make sure that wires were properly hidden. With so many gorgeous varieties of flowers and foliage, it was a true beauty to work with.
Our Woodinville Property is now a WALP (Washington Association of Landscape Professionals) Winner of 2017. Our attention to detail, meticulous eye for design, and soft pooling of light were all contributing factors to receiving the Award of Distinction.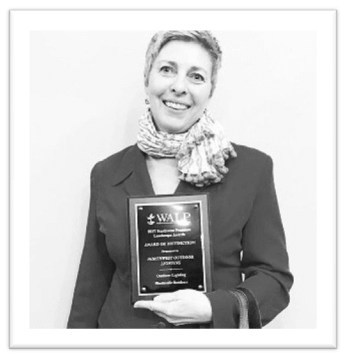 For the last 3 years, we have received awards from WALP for our dedication to light, foliage, and meticulous work. We look forward to what will happen this year!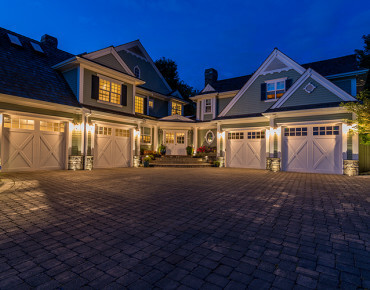 This $3.5 m home sits on just over 1.25 acres. We were hired to create a warm and welcoming atmosphere to this large home and property.
View Project
---